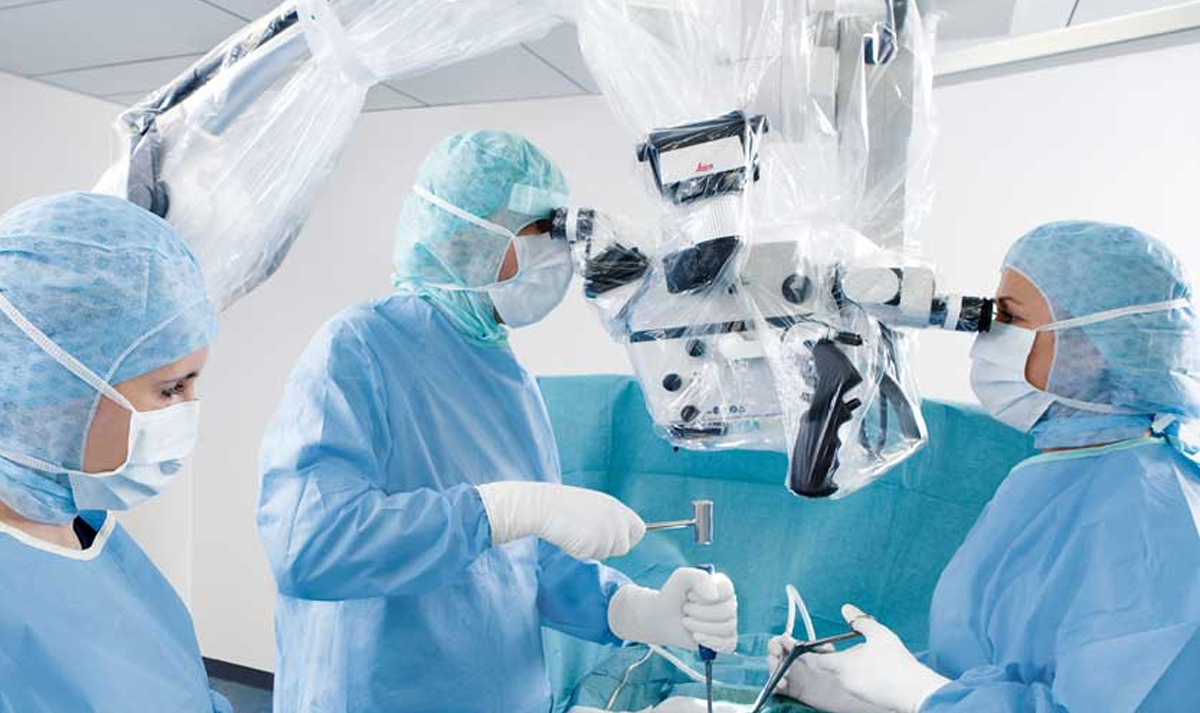 Surgical Microscope Rentals
Rentals MD provides a variety of surgical microscopes for long-term rentals. Our microscope rental program is ideal for medical facilites that need a surgical microscope, yet have budget constraints that will not allow the purchase of a new microscope.
We offer a variety of options when it comes to our surgical microscope rentals. We can provide surgical microscopes for ENT, Spine, and Cranial, and offer rentals from popular brands such as Ziess and Leica. To learn more about our offerings click the request a rental quote button below and a member of our team will reach out to you.
How Our Rental Program Works
Select The Equipment You Need
Let us know what you need. If you need something other than what's shown on our website please let us know as we can most likely supply it and can custom-tailor a rental to fit your individual needs.
Accept Pricing & Sign Contract
Rentals MD will provide you with a weekly or monthly price and rental contract. Simply accept the price quote and rental contract and send it back to us.
Submit Payment
Simply pay the first month's rent, security deposit (if applicable), and shipping costs. Once payment is received, we ship out the equipment to you based on how quickly you need it.
Enjoy Using The Equipment
The equipment is yours to use as long as you like. Once the minimum term is met, you may hold on to the equipment as long as you need and will be billed on the  schedule determined at the time of the rental (weekly or monthly).
Why Rent? The Benefits Of Renting
Low Out Of Pocket Costs
Are you a startup? Over budget on an expansion? Need a piece of equipment but capital is better served elsewhere? A medical equipment rental may be perfect for you as it allows you to acquire the equipment you need with a low rental payment and small security deposit. Simply apply the rest of your capital to more demanding needs within your organization.
Try Before You Buy
With a medical equipment rental you can try out the equipment prior to buying and make sure you like/need it.
Add A New Specialty With Low Start-Up Costs
Get all the equipment you need to add a specialty to your office, clinic or surgical center without having to put out the full capital required when purchasing. Once the billing is in place and it makes sense to purchase, simply convert the rental to a purchase with our buyout option.
No Maintenance & Service Costs
Never worry about maintenance & service costs during your rental as Rentals MD covers those during the rental period. If the equipment requires repairs, Rentals MD will fix the equipment at no cost to you and will pro-rate the rental fee based on the amount of time the equipment is out of service. If renting longer than 12 months, Rentals MD will cover all annual maintenance costs as well.
Upgrade Any Time
With a rental you're never stuck using outdated equipment. Once your minimum rental is met, Rentals MD allows you to upgrade or switch out your equipment to a newer model at any time  (shipping costs and rate change applicable).
Book As An Operational Expense
A rental can often be booked as an operational expense and therefore a tax write-off (please consult with your accountant to verify this is applicable to your situation).
Why Rent From Rentals MD?
Earn Equity In Your Rental
With Rentals MD, we allow you to build equity in your medical equipment rental. As you rent you accrue 50% of each month's rental towards the purchase of the equipment (up to 18 months worth), so that when the time is right you can convert your rental to a purchase.
While offering one of the largest % of equity, we also allow you to apply that rental equity towards the purchase of a newer/upgraded piece of equipment of equal or greater value. This allows you to get into a low-cost rental to get established and then purchase the make/model of equipment you really want all while using your rental credits towards it.
Daily, Weekly and Monthly Rentals
Rentals MD offers daily (limited to location), weekly and monthly rental options to meet your specific needs. We also offer long-term contracts (6 months+). Minimums are dependent on equipment type and physical location. We do our best to make our rentals cost-effective, therefore, dependent on shipping costs short-term rentals may not be applicable.
Rentals MD is ultra competitive when it comes to rental pricing. Medical equipment rentals are the main focus of our business unlike a lot of our competitors. If you come across better pricing simply let us know and we will meet or beat it.
While we have our standard rental programs, we can custom-tailor a rental to meet your needs. If you need a lower monthly out-of-pocket cost or are looking for a piece of equipment that's not in our catalog, we offer the flexibility to create a custom program that will work for you. Call us and let us know how we can help.
20+ Years Of Rental Experience
Our staff members have over 20 years of medical device rental experience. This allows us to work with you to meet your needs and then exceed them. We can help position you with the equipment that will do the best job for you all while being cost effective.